"Those who seek paradise on Earth should come to Dubrovnik and see Dubrovnik."
George Bernard Shaw






AREA: 143 sq km.
GEOGRAPHIC LOCATION: 42°38'26" N - 18°06'35" E
POPULATION: 42,641 (2011 census)



Dubrovnik is a medieval city on the Croatian side of the Adriatic coastline and a treasure - trove of cultural - historical monuments that were created throughout its thousand-year existence.

In the past, it was a City-Republic, and alongside Venice one of the most famous cultural-economic centers on the Mediterranean. In more recent times, it has become the center of modern cultural and tourist events: a city of summer festivals - an international parade of top musical and theatrical achievements, a city of museums and galleries. These values have turned Dubrovnik into a place that offers a rich selection of various experiences and excitement, but also a complete holiday in a quiet and calming, mild Mediterranean ambience and wonderful seaside landscapes.

The walls of Dubrovnik girdle a perfectly preserved complex of public and private, sacral and secular buildings representing all periods of the City's history, beginning with its founding in the 7th century. Since 1979 Dubrovnik is in the register of UNESCO as a protected World heritage. Particular mention should be made of the city's main street in the old historical center - Stradun, Rector's Palace, St. Blaise's Church, Cathedral, three large monasteries, Custom's Office and the City Hall.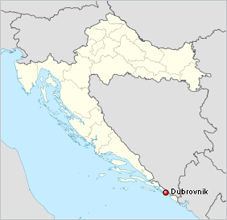 The geographical position of this region is typically Mediterranean with mild and wet winters, and hot and humid summers (2,600 hours of sunshine on average). The average annual precipitation is 1,250 mm, air temperature is 17° C, and summer sea temperature is 21° C. There are many sunny days during the winter months. The average summer air temperature is 25° C, made pleasant by the mild 'maestral' wind – a messenger of good weather, while the 'bora' and the 'jugo' generally blow during the colder months.
The coastline is beautiful, dotted with bays, beaches, steep cliffs and many forested islands. There is a great variety of flora, predominantly cypress, pine and olive trees, as well as vineyards, lemon and orange plantations – together with aromatic herbs and flowers, including exotic plants such as palm trees, agave and cactus, which create a special atmosphere. Nature lovers will find a true Mediterranean landscape here, while those fond of sailing will discover a wonderful sea and marinas.
Dubrovnik is not only a fascinating place to explore in its own right but it makes a great base for day trips throughout southern Dalmatia. The Dubrovnik countryside is replete with small villages that retain their folklore traditions. Further down the coast is the resort of Cavtat. Lying at the tip of Croatia, Dubrovnik is close to Mostar in Bosnia-Hercegovina and Montenegro, which make great day tours. And offshore, lie some of the most beautiful islands in the Adriatic: Mljet, Lokrum and Elaphiti Islands.
Elaphiti Islands are true jewels of Dubrovnik archipelago. Chain of islands between the Pelješac peninsula and the Lapad peninsula used to be a favorite place for summer residences of the Dubrovnik aristocrats. Sailing trip is the ideal way to experience beautiful Elaphiti Islands; enjoy the sun and the clear blue sea that surrounds the islands.
UNIVERSITY OF DUBROVNIK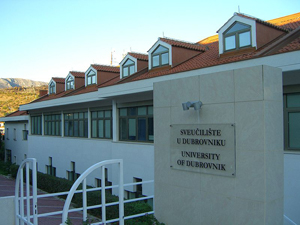 The history of higher education and scientific research in Dubrovnik started in the distant past. This is especially related to maritime, social and natural sciences. In 1624. Jesuites have founded "Collegium Rhagusinum". The Dubrovnik Republic Senate proclaimed it a public high education institution in year 1654. That institution provided education for Ru?er Boškovia, the most eminent Croatian scientist and the founder of the Dynamic atomic theory, who continued his doctorate studies in Rome. The Dubrovnik Republic Senate allowed young aristocrats to study navigation and commerce and apply their professional knowledge when sailing out of the Adriatic Sea. The "Collegium Ragusinum" is the real predecessor of the modern higher education in Dubrovnik functioning successfully from the middle of the last century, through to the nineties of the last century.

The Conference sessions and lectures will be held in the University chambers equipped with state of the art technology.



The venue address:

University of Dubrovnik

Ćira Carića 4

20000 Dubrovnik




Prikaži View larger map
Conference venue
University of Dubrovnik
Opening session
Valamar Lacroma hotel


REPUBLIC OF CROATIA

AREA: 56,542 sq km.
POPULATION: 4,290,612 (2011 census).
CAPITAL: Zagreb



View Larger Map>
Lonely Planet Guide about Croatia
CIA world factbook about Croatia
Homepage of Republic of Croatia
Croatian National Tourist Board
Map of Zagreb and other Croatian cities
Croatia is located between South-Central Europe and Middle Europe. Its shape resembles that of a crescent or a horseshoe, which flanks its neighbours Serbia, Bosnia and Herzegovina and Montenegro. To the north lie Slovenia and Hungary; Italy lies across the Adriatic Sea. Its mainland territory is split in two non-contiguous parts by the short coastline of Bosnia and Herzegovina around Neum.
Its terrain is diverse, including:


plains, lakes and rolling hills in the continental north and northeast;
densely wooded mountains in Lika and Gorski Kotar, part of the Dinaric Alps;
rocky coastlines on the Adriatic Sea (Istria, Northern Seacoast and Dalmatia).
Phytogeographically, Croatia belongs to the Boreal Kingdom and is shared between the Central European and Illyrian provinces of the Circumboreal Region and the Adriatic province of the Mediterranean Region. According to the WWF, the territory of Croatia can be subdivided into three ecoregions: the Pannonian mixed forests, Dinaric Mountains mixed forests and Illyrian deciduous forests. The country is famous for its many national parks. Croatia has a mixture of climates. In the north and east it is continental, Mediterranean along the coast and a semi-highland and highland climate in the south-central region. Offshore Croatia consists of over one thousand islands varying in size. The largest islands in Croatia are Cres and Krk which are located in the Adriatic Sea. The Danube, Europe's second longest river, runs through the city of Vukovar. Dinara, the eponym of the Dinaric Alps, is the highest peak of Croatia at 1,831 metres above sea level.

Croatia is a cultural, historical and natural treat for travelers.The most popular possibility for travel and tourism, of course, is summer tourism. You can also enjoy the benefits of rural tourism in many of the villages in the continental region of Croatia, as well as of health tourism in a number of spas and thermal and mineral springs, such as Varazdinske, Tuheljske, Stubicke and Krapinske spas, Lipik, Daruvar or Topusko in the continental region, and along the coast: Losinj, Umag, Opatija, Crikvenica, Hvar, Makarska, Vela Luka and Istarske Spa in Istria. If you are a gourmet and a connoisseur of fine food, or simply like tasty and healthy food, you will certainly more than enjoy Croatia.

Croatia has a stable functioning market economy. International Monetary Fund data shows that Croatian nominal GDP stood at $50.053 billion, or $11,271 per capita, in 2007. In purchasing power parity terms, total GDP was $69.866 billion in 2007, equivalent to $15,733 per capita. According to Eurostat data, Croatian PPS GDP per capita stood at 57.5 per cent of the EU average in 2007. Real GDP growth in 2007 was 6.0 per cent.

USEFUL INFORMATION

CURRENCY:


TRANSPORT:

Dubrovnik Airport, also referred to as Ćilipi Airport, is the international airport of Dubrovnik, Croatia. The airport is located approximately 15.5 km (9.5 mi) or 20 min from Dubrovnik city center, near the suburb of Čilipi.
From the airport you can take a taxi. Taxi price from airport to the city is approximately 35-50 EUR.
Dubrovnik International Airport

Dubrovnik public transport - Libertas Dubrovnik. Please check also - Dubrovnik Card
Dubrovnik Port - http://www.portdubrovnik.hr/



WEATHER IN DUBROVNIK:


Due to Mediterranean climate the temperatures in the first week of October can rise upto 25°C (77°F) with small daily variations of the temperature. The sea surface temperature during the warm weather can be suitable for swimming, around 19-21°C (66-70°F). It is recommended to bring warmer clothing because the nights could be chilly, especially in case of Bora wind.